York Adopt-A-Pet is a 501(c)3 non-profit animal sanctuary located in York Nebraska.  We serve as the primary care givers to the abused, lost and abandoned dogs and cats for our area.  
Join us for the John Kohl Poker Run for Pets on Saturday, August 27
All proceeds to benefit York Adopt-A-Pet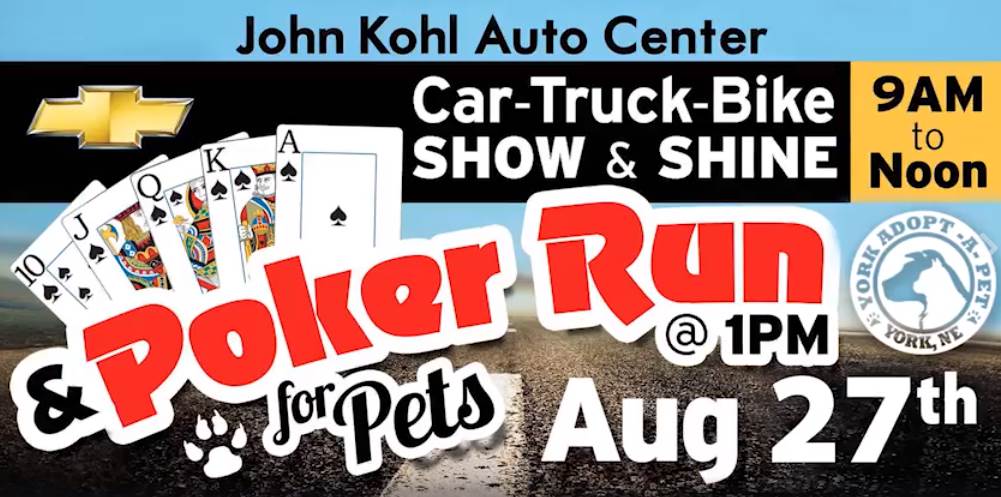 Show your style by ordering a York Adopt-A-Pet T-Shirt: Order Here
Join us on FACEBOOK
Fundraisers and events help us raise awareness and generate crucial resources to serve our community. Join us at our next event and see how you can get involved.
LaMoine Roth • lamoine@inebraska.com on 08/19/2016

Everyone likes to read a "and they lived happily ever after" story.
Well, today is a good day because I have a great happily ever after story to tell. Cheese and Ozzie's owners had a rate increase in their rent due to having pets and money was tight. It was with great sadness that they had to relinquish the two cats. They sent their favorite toys, blankets and health records and asked us to find them forever homes. Their life began at YAAP. Cheese adapted quickly, while Ozzie-- being an older cat, took several weeks but slowly adjusted to living in a dorm-like atmosphere with dozens of other cats.

Gail Nordlund • gnordlund@neb.rr.com on 08/12/2016

bout a month ago, my dog Gabriel alerted me in the middle of the night that something was going on. I assumed it was just the normal night sounds outside and went back to sleep. When I got up in the morning, there was my doggie treat jar on the floor with the lid off and all of the treats were gone.

LaMoine was having a little trouble coming up with a story line for this week's Paws for Pets and so I told her, no problem let me give it a shot.
My name is Murphy and I am currently living in a group home run by York Adopt a Pet. I am temporarily living with LaMoine and would like to share my story on what it feels like to go from a homeless cat to a guest at York Adopt a Pet. Let me just say it is the "cat's meow" excuse the pun. It is hard to explain my life before York Adopt a Pet. I was part of someone's home and family because I was neutered, declawed and I have impeccable manners. But to protect those who put me out on the street, my lips are sealed on my previous life.

LaMoine Roth • lamoine@inebraska.com on 08/05/2016

Gail Nordlund • gnordlund@neb.rr.com on 07/29/2016

The first time I met Toto happened when I was doing my shift at York Adopt a Pet.

As I looked into his kennel, he retreated into a corner, showed his teeth and began to growl. Such a tiny little guy and obviously very scared, gave me reason to go in and see if I could win him over. With a look of bewilderment, he slowly crawled toward me and came into my lap. Then he gave me an abundance of kisses. He appeared to be so relieved that I was not a threat.