Please complete the Adoption Application if you are interested in giving a home to one of our guests. Farm Cat Adoption Application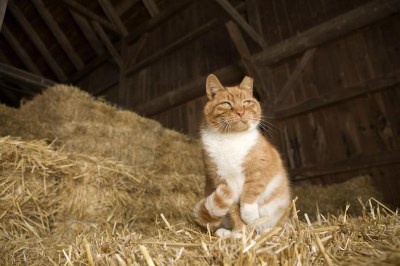 York Adopt-A-Pet's Farm Cat Program is intended to provide a placement option for cats with behavior issues or temperaments which make them better suited for an outdoor lifestyle. The program's purpose is to find appropriate outdoor homes for these cats outside of York city limits within York County (qualified homes within close proximity to York County may be considered depending on the distance from York). They live in a structure that is a free standing building, safe from the elements that the cat can get in and out of easily like a barn, stable, shop or outbuilding where they have a better quality of life.
These cats have been given medical care and are spayed/neutered prior to placement to prevent any future litters of kittens. As an adopter of a farm cat(s), you provide them with daily food/water, protection from the elements and predators, and long term care including veterinary care. These cats will return your gift of a home by working to catch rodents and keep away other unwanted animals.
Farm cats range from semi-feral to social cats with behavior issues that make them unsuitable for an indoor home. Semi feral cats are used to some human contact but prefer to keep their distance. Over time, a semi feral cat may become more receptive to human contact and become more social as they settle into their new outdoor home. Cats which are candidates for our in home Adoption Program are not eligible for adoption as farm cats.
Veterinary Care
All farm cats are provided the following veterinary treatments and procedures prior to adoption:
Flea/tick treatment, if needed
FVRCP One-Year Vaccination
FELV One-Year Vaccination
Rabies One-Year Vaccination (depending on their circumstance)
Other treatments & procedures deemed necessary
Adoption Fee

Farm cats are available for adoption at a reduced adoption fee of $25.00 per cat. We recommend adopting farm cats in pairs to help with their acclimation to the farm.
Adoption Process

Complete the York Adopt-A-Pet Farm Cat Adoption Application. Our Farm Cat Program Coordinator will review the application and identify cats best suited for your outdoor situation. After the veterinary staff has completed all veterinary care for the cat(s), our coordinator will setup an appointment for you to visit the cats and complete the adoption.

You will need to confine the cat(s) to a secure area for 2-4 weeks so they learn the area. Some cats may need to be confined longer depending on their social level or previous history. The cat(s) should not be released during wet/rainy weather. During this time the cat(s) will learn the structure is where they will receive food and water therefore they are more likely to remain on the property after they are allowed to roam the farm.
The adoption process will be completed and payment will be taken when the cat(s) are adopted to the property. After three weeks, the Farm Cat Adoption Coordinator will contact the adopter to check on how the cat(s) have acclimated and answer any other questions.