Please help York Adopt-A-Pet by making a tax deductible donation. Just click on the button below:
York Adopt-A-Pet hopes to help create a community where all lives are valued and respected.
Another way to help is when you shop on Amazon.com. Just follow the link below for Amazon Smile and select York Adopt-A-Pet. AmazonSmile Foundation will donate 0.5% of the price of eligible purchases to YAAP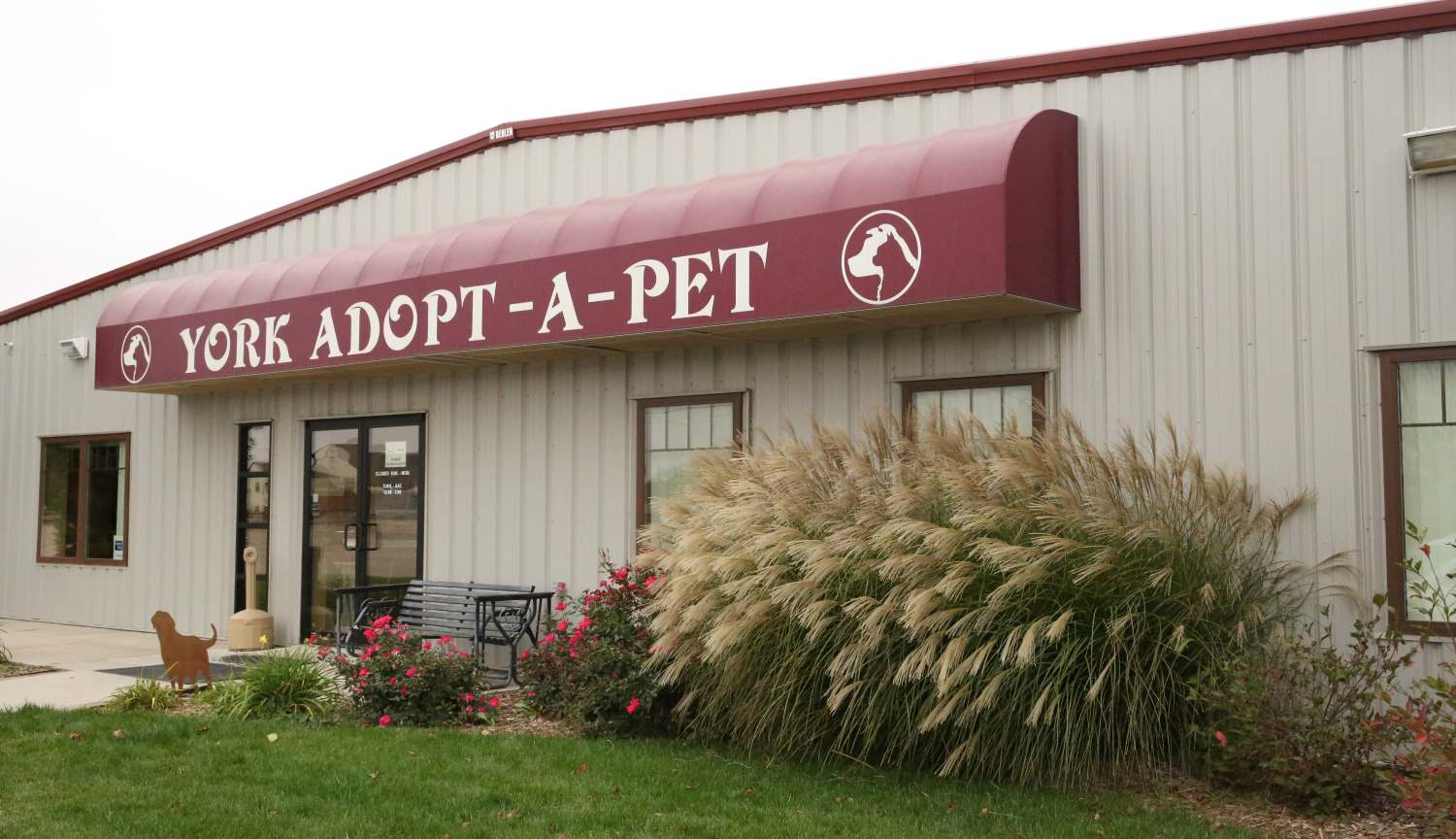 York Adopt-A-Pet is a 501(c)3 non-profit animal sanctuary located in York Nebraska. We serve as the primary care givers to the abused, lost and abandoned dogs and cats for our area.
Goals
The goal of York Adopt-A-Pet is to provide a safe and secure sanctuary for abused, lost and abandoned dogs and cats.
York Adopt-A-Pet operates with a small staff, dedicated volunteers and the love of furry friends we meet.
York Adopt-A-Pet Mission Statement:
To provide a safe haven for the dogs and cats placed in our custody.

To find the best homes for the dogs and cats that are our guests.

To educate the public on the need to treat our pets with dignity and love.

To reduce the pet overpopulation.
Adoptions for This Week
From Facebook
11/26/2021 --- A Paws for Pets
"Through the years" by LaMoine Roth
Time does go by fast and I will attest that the older you get the faster it goes. I came across this picture recently of one of my many family cats that I had while growing up. This opened up a huge memory bank when I saw this picture. Whitey was a real diva, she reigned over the house, hiding on top of the picture window next to the front door and jumping down on top of anyone who ventured into the house for the first time. They were always prepared the second time they arrived, covering their head as they dashed into the house. It was a game for her that most didn't appreciate.

On May 19, 1962 I was waiting for my first date with a guy named Bob Roth. I was a 15-year-old sophomore and Bob was 19, having graduated in 1961 from Fairmont High School. He had a business and was working in York. My mother had herself seated on the sofa and instructed Bob to sit down beside her while she bombarded him with one question after another. How old are you? What do your parents do? Where are you going? Bob was definitely getting the grilling. Whitey had let him into the house without flying from the rafters to land on his head but she then sauntered over right in front of him and put her hind leg in the air to begin cleaning her bottom. Bob was mortified and didn't know what to say. When she was finished, she jumped into his lap -- by the time he got out of there, his black pants and black sweat shirt looked like a white mohair coat. As we were walking to his car he commented…."you know I really don't like cats."I said, "Well that's too bad because I love cats." Through the next four years of dating, he tried his best to distance himself from Whitey and another cat I called Little Bit. It didn't work. He finally gave up on his choice of dark clothing and generally sat in a wood chair so as not attract all the cat hair.I graduated from high school in 1965 and to make my mother happy I agreed to go to at least one year of college.
Of course I came home every week not only to see Bob but to see Whitey and Little Bit. Right before finishing my freshman year at Kearney State College we were engaged on May 19 1966, and then tied the knot in August of that same year. Our first few years of marriage would be called somewhat normal -- we had three cats and three dogs. Bob was called up to go to Vietnam in 1968/1969 and I still can't believe I moved back home with three dogs and three cats while he was overseas. My parents were saints. We had our son Ryan on July 9, 1971, and then would you believe that on May 19, 1974 we had our daughter Amber. There were those three May 19th going from 1966 to 1972. Very important dates. It just goes to show that if you try hard enough you can make things work out. His home became a cat sanctuary within a few years of being married. There were always stray animals the kids would bring home, but I never stepped over the line until around the middle 80s. This is when he lost his shop and man cave, in our backyard. This is when he had someone knocking on our door, calling all hours of the day, never knowing what rooms he could or couldn't go into depending on what had come in for the day. He has been a trooper, he moans and groans at times when a cat jumps up and pulls his steak to the floor, or steps in the occasional unknown wet substance when getting up in the middle of the night. There have been many Whiteys and Little Bits passing through the last 59 years. He probably wouldn't admit it to his coffee guys but I think he has enjoyed our journey through the world of cats.
We are proud to be part of Bissell Partners for Pets