Join us for a fun event that helps our cats and dogs. This is a Virtual Run and a Live Walk. Details can be found by following this link.

Please help York Adopt-A-Pet by making a tax deductible donation. Just click on the button below:
York Adopt-A-Pet hopes to help create a community where all lives are valued and respected.
Another way to help is when you shop on Amazon.com. Just follow the link below for Amazon Smile and select York Adopt-A-Pet. AmazonSmile Foundation will donate 0.5% of the price of eligible purchases to YAAP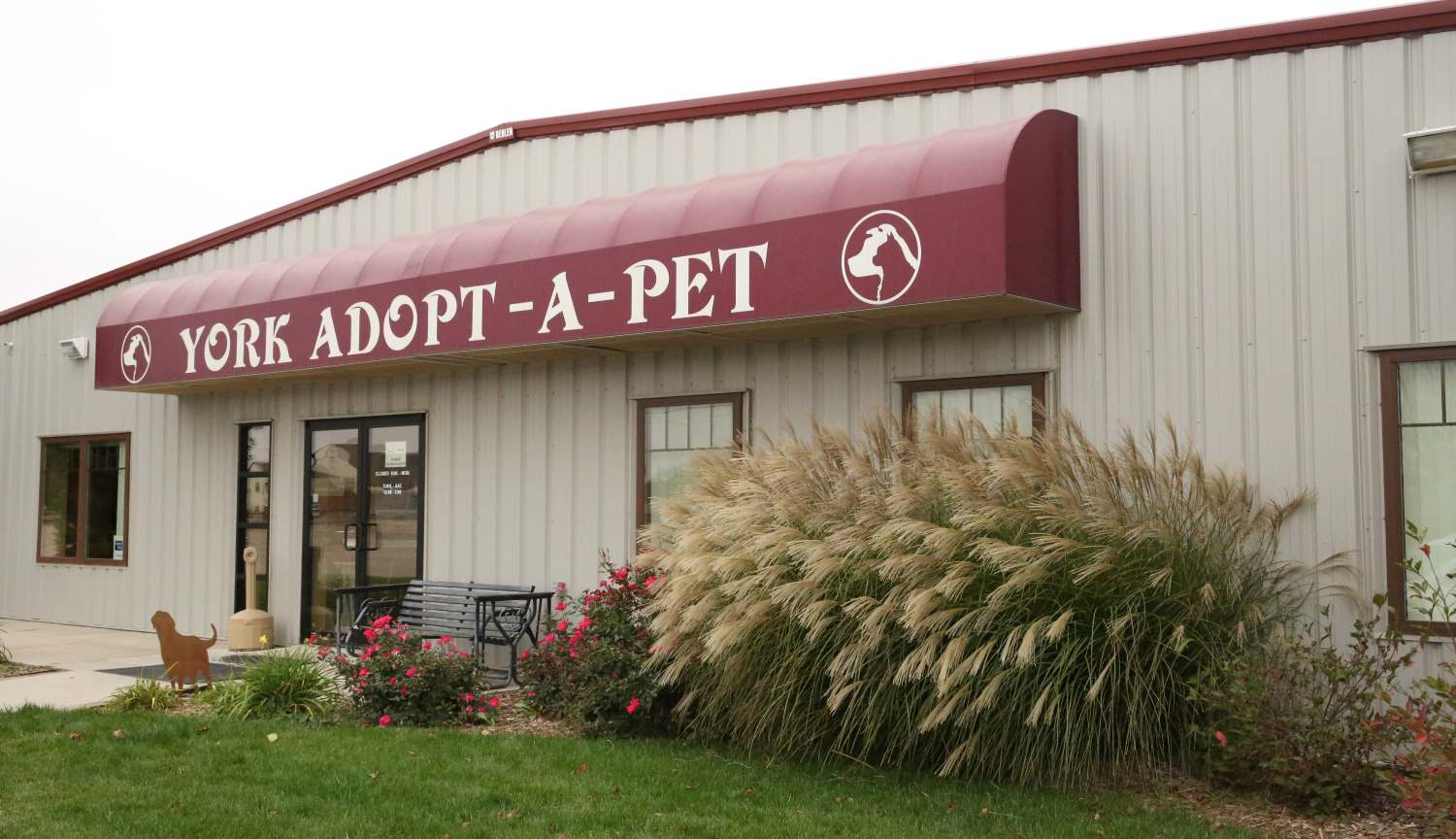 York Adopt-A-Pet is a 501(c)3 non-profit animal sanctuary located in York Nebraska. We serve as the primary care givers to the abused, lost and abandoned dogs and cats for our area.
Goals
The goal of York Adopt-A-Pet is to provide a safe and secure sanctuary for abused, lost and abandoned dogs and cats.
York Adopt-A-Pet operates with a small staff, dedicated volunteers and the love of furry friends we meet.
York Adopt-A-Pet Mission Statement:
To provide a safe haven for the dogs and cats placed in our custody.

To find the best homes for the dogs and cats that are our guests.

To educate the public on the need to treat our pets with dignity and love.

To reduce the pet overpopulation.
Adoptions for This Week
From Facebook
6/18/21 A Paws for Pets - "Thor wins the Lottery" by Kim Hart
Rewinding back to the beginning of the year, I was called by one of my rescue contacts and asked if I could take a Silver Labrador Retriever. I was intrigued and asked for a little more information. I was told the owners had moved to town and could not take the dog with them to their new home. I was given the owner's information, we talked a bit about Thor and I agreed to take him knowing he was going to need a bit of work. He also had Alopecia (baldness), which is common for a Silver Lab. The day came and Thor arrived. I could tell right away he was not very happy with the way things were going for him. Paperwork was filled out and Thor was introduced to his kennel. Things seemed OK until later in the day when it was time to take the dogs out again. Thor was very upset, growling and showing teeth. After all my years at the shelter, I will say this happens very often. It is a shock to a dog to be placed in a kennel with unfamiliar surroundings and of course all the barking from the other dogs. Then they also have all the new volunteers each day they have to meet. The first week or so with Thor was not very fun but as days went on, he was starting to get more comfortable and starting to trust some volunteers. This is also when we started seeing some dog aggression coming from him. It is tough to be in this setting if you are unsure about other dogs. I asked our volunteers to use extra caution around him with other dogs. Unfortunately, the day came when he did bite another dog. He decided he did not like one particular dog and every chance he would get; he would try to run to that dog's kennel. Oddly, after that dog was adopted, Thor started really mellowing out. The volunteers and I worked so hard with him and I think he was finally seeing the light. He realized that if he was nice, people would want to be around him and spend time with him. I won't say he loved everyone but he started liking all of the volunteers and was choosing to ignore the other dogs, which was progress. Then in late May, a teenage girl came in and saw Thor. For some reason, she was very captivated by him and Thor seemed to mesh well with her as well. After a couple of visits with Thor through the kennel, she wanted to meet him. We took him outside to the outdoor run and he loved her instantly. So off she went, to try to talk her mom into adopting Thor. When her mom came to see Thor, he would not even look at her. She told me later, after a couple visits, she had said to Thor, "If I am going to be able to give you a home, you have to at least look at me!" She said he looked her right in the eyes and put his paw on the kennel gate right next to her hand. She said she and her daughter just started to cry. How sweet was that? The adoption application was completed the next day. They got some things ready at the house and within a few days, Thor was on his way to his new home. I still had my worries about how things would go, but the volunteers and I had done our best with him -- it was time to see if we had made a difference. After spending six months with us at the shelter, Thor is the happiest dog. There is a dog that runs loose in their neighborhood quite often and Thor does not bother him at all. He also does not bother the cats in the home. They have worked with lots of commands and he is learning their way of doing things. The new owner says, "He is such a good boy! He is very smart. He already knew some commands but we are teaching him the 'leave it' command and he has done amazing with that. He is friendly to everyone he meets. He is a huge snuggle buddy! He also gives great hugs, although they can be big, awkward hugs! He makes our lives so much better and it is as if he was meant to be a part of our family. He also is starting to have some new hair regrowth." I can tell you hearing this from the owners absolutely made my day. I am so glad they came to the shelter and saw him. We had not advertised him for adoption yet, so this was this was just a coincidence. Thor is one lucky boy to have found such spectacular new owners! It's like he won the lottery! The Alopecia will never allow Thor to have a normal fur coat but the owners are thrilled that some of it is coming back and they are also willing to apply sunscreen when he will be outside. Thor wins the lottery.
We are proud to be part of Bissell Partners for Pets